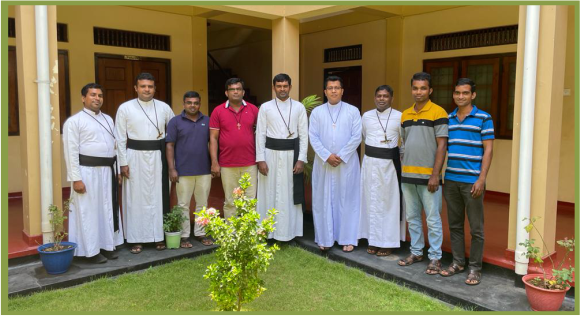 There held an animation programme for the Coordinators for the Oblate Ministry of Higher Education on the 22nd of April, 2022 at Thodarpaham. Fathers who are organizing formal, informal and higher educational classes at different mission centers were present at the meeting. The purpose was to share the reality of the ministry in different places and to discuss the possible alterations for the betterment of this ministry of higher education.
Accordingly, the suggestions proposed are as follows:
There has to be a priest in charge particularly for this ministry of Higher Education, together with a group of priests as administrative body who can work even from other places, Centres etc.
It is better to have a lay person as well from the educational field as part of the Board, who can help us in various ways to take forward the ministry according to the needs of the time.
There has to be an organized syllabus as such in common for all wherever the classes are organized, so that the students can be prepared for a common final exam. Common paper and certificates would give us a common identity and standard.
It felt good to have a particular place registered as the Centre for Higher Education where all the documents, even from other places where classes are organized, are preserved, and from where the administration functions. Thus, Annai Illam was felt as the best place for such an initiative.
The quality and standard of the teachers is an important concern. Thus, they need timely training and follow up programs to update.
It's also good if some particular brothers are properly trained with qualification from the time of their formation itself, so that without any break ups there can be continuity and thus we could provide and preserve the standard of the institution.
Finally, a group of priests were selected by Rev. Fr. Provincial not as the Board but as the people who could come out with suggestions and proposals at the initial stage, after which an Administrative Board as such could be organized later on. Accordingly, Rev. Frs. Edwin Vasantharasa, Ramesh, Jenis, Carowf, Jeevaratnam and Justinrajah were asked by the Provincial to help organize this ministry.
no images were found