"The years in the Scholasticate give the required training and education to those who to prepare for priesthood. They will cultivate those skills needed for an effective ministry of the world. And be led to appreciate the gift of the priesthood, through which they are to share in the unique way in Christ' on ministry of priest." (Rules and Constitutions: 66)
Our life as Oblate Scholastics at the Scholasticate, known as 'Vasanthaham' is a joyous one. The geographical set up of the place viz; a close fascinating Jaffna lagoon at the border of the peninsula with gentle breeze, multi-religious surroundings and interior serene atmosphere that gives us peace of mind which consoles the souls at different levels.
Unity in diversity
The Scholasticate consists of Formators together with brothers from the North and South of Sri Lanka and two brothers from the beautiful country of Vietnam meant for the Province of France – Brothers Danushka Fonseca, TOR, and Andrew, OMI Vietnamese brothers add colours to our community by their own respective unique cultures. Our seminary programmes are organized to foster the international, inter-congregational and inter-cultural synergy so that it's exuberant functions are kept alive. This is the outcome of the 36th General Chapter too. Bilingual liturgical and para Liturgical celebrations are arranged in order that each member feels at home.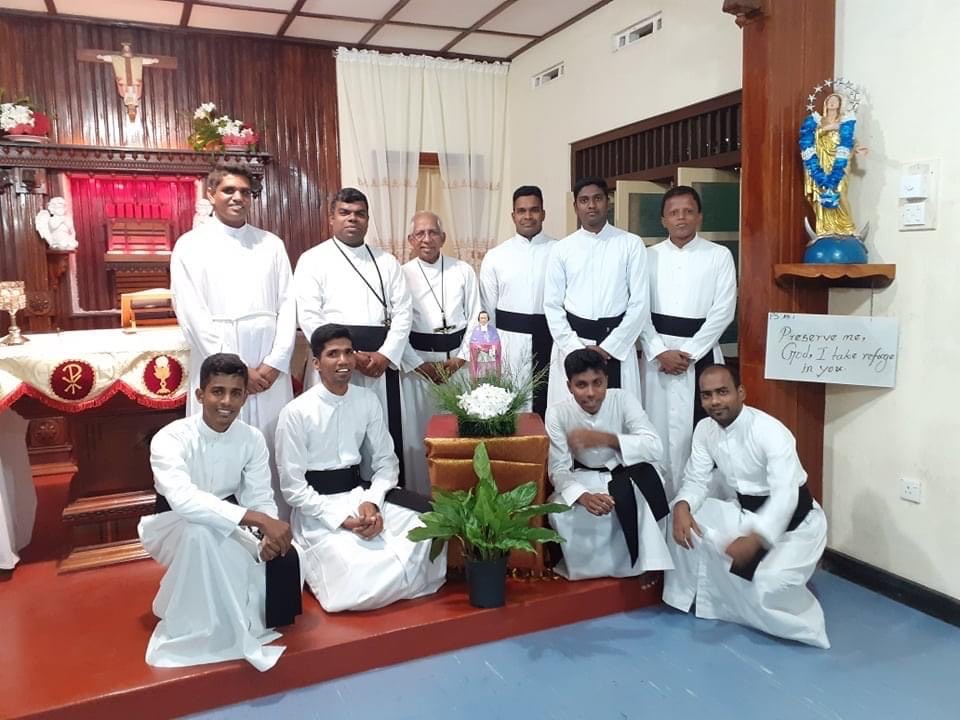 Words of sympathy
We, brothers have never experienced what it means to be a missionary. But one of our Scholastics, Bro. Andrew had experienced a formation which is expected of a missionary encounter. Bro. Andrew has lived through the experiences of four irreparable losses of his family members one after another during this year. Having experienced such losses, Bro. Andrew is determined to go forward courageously in our Oblate way of life with lot of enthusiasm and positive energy.
Dear Bro. Andrew, we express our deep sense of sympathies and we are sure of our friendship and prayers at this time of your irreparable losses. We cannot forget our beloved Formator Late Fr. Albert Victor Jeyasingam, OMI. He was faithful to his religious life, responsible to his mission, transparent to his life in general, simple and humble. His life on the whole was an example in all his career as Formator. His death left in our hearts a loss that cannot be replaced. We miss you dear Father and believe that you share the eternal joy in heaven.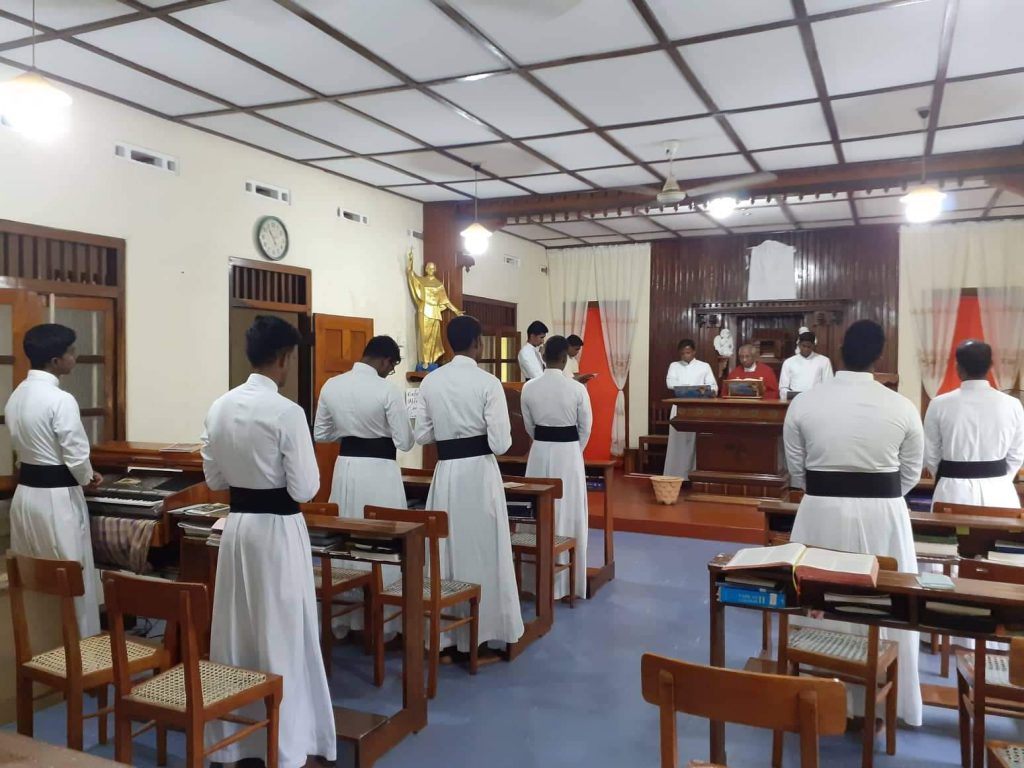 Pastoral life amidst Pandemic
A carefully designed and supervised active pastoral involvement is an integral part of the entire programme here at our Scholasticate. As scholastics with much enthusiasm we were engaged in pastoral activities even during the first wave of COVID-19 in Jaffna. Visiting families, administering Holy Communion to the people in the hospital, conducting ASIPA, preparation for Sunday liturgy, catechetical education and children apostolate were the main concerns. Unfortunately the prevailing situation has prevented us from implementing our entire programmes. But we never gave up them. Instead, we opted to educate students in the vicinity of Saint Joseph's school. The situation of present made it still harder to carry out our pastoral activities. Now we are united with them through prayer alone. The absence of pastoral activities at present is one of our drawbacks.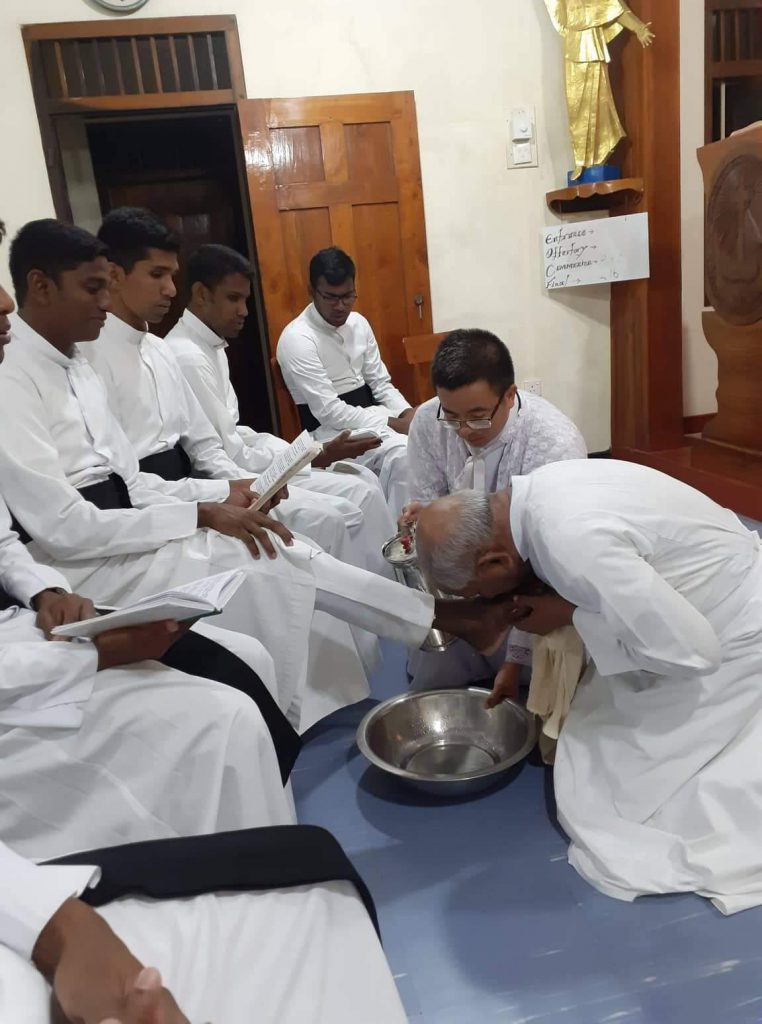 Oblate and Theological study clubs
Thanks to the tradition of the Scholasticate for creating wonderful opportunity and study forum where we get to know and remember the Oblates, their ministries, pioneers of our Province and some other information. The well updated theological views shared by competent personalities have been highly appreciated by all the participants in recent times. The organizing body of each club deserves our deep sense of appreciation and wishes. Our Scholasticate will mark these events as special ones in its calendar and would eagerly await for the next to come.
"NAAN" magazine
We all have potential for a perfect life, to achieve great things and live a life filled with joy, accomplishment and pure bliss. The "NAAN", magazine in psychology a proud product of our own Scholastics together with many contributors from outside has been instrumental in providing knowledge in the field of psychology for many years. Having received much attention from many readers and subscribers, the magazine has been reshaped and updated at their request and now made available and accessible.
Six new deacons
Our Scholasticate takes much pleasure for having formed and sent out to missions our beloved past students as deacons. Their contribution to the community welfare has been impressive during their life here, and their memories remain intact in our environment. Best wishes to you all dear brothers.
Flight to Rome
Our province as well our Scholasticate are privileged and proud to have members of our own in the International Scholasticate, Rome. Our best wishes and prayers to Sc. S. Vimalraj, OMI, Bro. N. Ajanthan, OMI. May you both excel in all what you do and contribute.
With gratitude
Few words are not enough to thank our beloved Formators, Frs. Damien, OMI, the Superior and Fr. Amalraj, OMI and Fr. Patrick Leo. They have been very inspiring and encouraging throughout our formative journey. Our Scholasticate owes much to them. Their cheerful presence in the community, paternal advice and guidance sustain us and help us to continue and persevere in the Oblate way of life. Your selfless service will remain fresh in our hearts and in the history of our Scholasticate. God bless you dear fathers.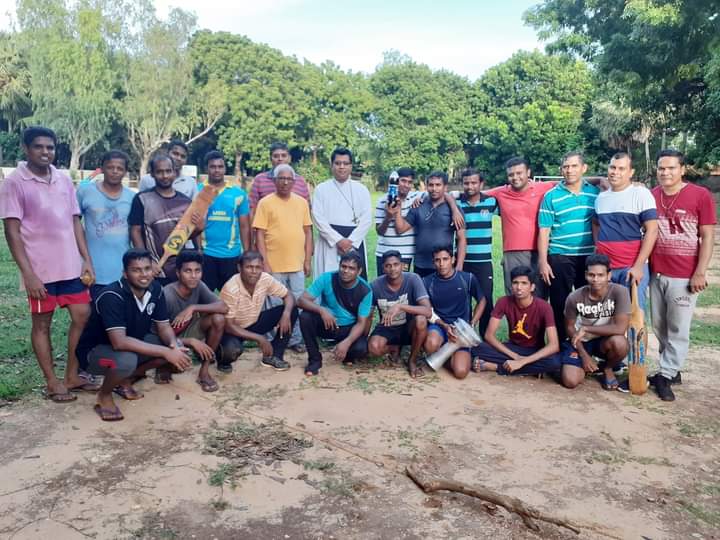 Sc. R. Shaya Tharsan Lambert, OMI
       
 

no images were found