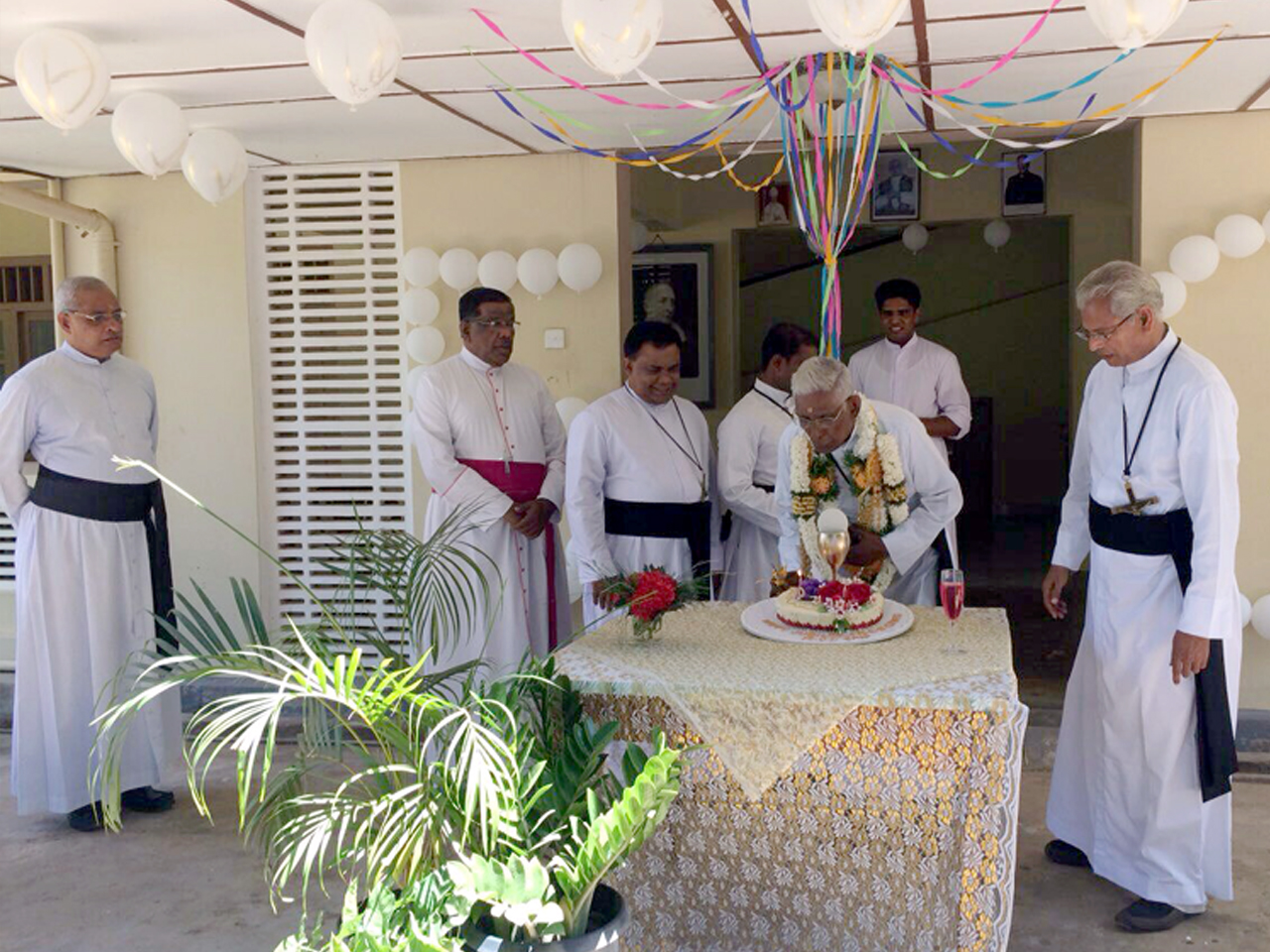 Fr. Celestine Soosaithasan Croos, OMI thanked and praised God for the gift of 50 years of priesthood on the 19th of April, 2018. 
The biography of Fr. Celestine Soosaithasan Croos, OMI reads as follows:
He was born in Vankalai, Mannar on 20th September 1937 to Mr. and Mrs. Celestine Croos Gnanasaundary. He had his primary education at Vankali R.C School and his secondary education at St. Henry's College Jaffna and St. Peter's College Colombo 4. Having completed his Ordinary Level, the young C.S.Croos entered the Oblate Juniorate in Kohuwela with much determination to become an Oblate to serve God and His people. In 1958 he was admitted to the Oblate Novitiate at Kaluthura and made his First Religious Profession on the 15th of August 1959. Having completed his ecclesiastical studies at Ampitiya, he was ordained a Deacon on 26th September 1967 by his Lordship Deogupillai. He was ordained to priesthood at St Mary's Cathedral, Jaffna on the 19th of April 1968 by  Rt. Rev. Dr. Emilianuspillai OMI, the Bishop of Jaffna.
Fr. C.S.Cross, friendly in nature, lovable in character and jovial in his entirety was called to be the Assistant Pastor to the missions at Pesalai, St. Mary's Cathedral Jaffna, Adampan. He has assisted in the Valimissam for some time. (Valimissam [administering abandoned missions] is an Oblate colloquial term that is used to denote the 100 Kilometres long costal mission from Pooneryan to Vidaththaltheevu which was managed by Oblates by using different modes of transport, namely bullock cards, boats and at the latter stage by jeeps). In 1971 he was appointed the Parish Priest of Galgamuwa mission and two years later he was requested to look after the valimiisam as its acting  pastor. Seeing his availability for missions, his superiors appointed him the parish Priest of Vidaththaltheevu in 1974 and a year later to the Parish of Naranthanai-Pungudutheevu. His style of ministering the Parishes under dire circumstances made him the interim Parish Priest of Mathagal Parish for an year, where he managed to tackle some severe issues. Then he was moved to Mullaithivu Parish from where he proceeded to Manila to follow a pastoral course at EAPI (East Asian Pastoral Institute). On his return he was moved to the Shrine of our Lady of Madhu as its administrator. He has also served in Vavuniya and Atchuvely Parishes. His wide experiences earned him a name among the diocesan clergy, that he was made the Procurator of the Diocese of Mannar where he had to hunt for money to run the Diocese. Fr. C.S' thirst for missions and zeal for the salvation of soul did not constrain him to certain areas. He ventured into Batticaloa Diocese and worked there for a year.
Fr. C. S was noted for his financial accountability and transparency and became nominated the Provincial Bursar which he held for two terms. He was also the superior of Amalautpavam and Thodarpaham.
Presently he is resident at Fr. Matthews Memorial Home, Jaffna. We wish him Ad Multos Annos Vivas.
no images were found