Good-Bye Fr. Victor OMI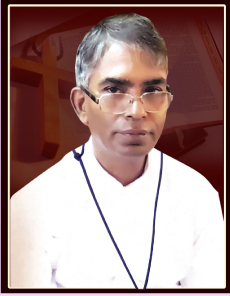 Rev. Fr. Albert Victor Jeyasingham, OMI was born on the 28th April, 1955 at Koiyathottam, Jaffna. He spent his childhood at the foot of Christ The King ( his Parish) at his village with his god-fearing parents, brothers and sisters. The whole family was very actively involved in all the spiritual and liturgical activities of the Parish and was closely connected with the Parishioners and the Pastors. In fact his family was very much concerned about the welfare of the Priests whoever served there. Fr. Victor as a young boy was serving at the altar for daily masses and drew the special attention of the Parish Priests. His spiritual formation both at home and at the Parish was remarkable in terms of his future religious and priestly formation.
He entered St. Joseph's Juniorate at Columbuthurai in 1972, while he was a student at St. Patrick's college, Jaffna. While being at the Juniorate, he was observed by his companions to be a silent youngster and sometimes called a 'Sanniyasi'. He was very simple, humble, obedient, and prayerful, but quite intelligent student. Everyone was teasing him to go to Tholagatty Ashram to become a Rosarian Monk. However he went through his Juniorate, Novitiate formation and entered the Oblate Scholasticate at Ampitiya, Kandy. It is there that his superiors identified his outstanding human and religious qualities, sent him to the Roman International Scholasticate for further formation. Having finished his formation in Rome he returned to Jaffna in 1982 and was ordained on the 2nd of May 1984.
He began his priestly ministry as a preacher and then served as the Rector of the Juniorate for almost six years. He became the treasurer of the Jaffna Province, served during the most difficult and challenging situations. Having observed his faithful stewardship he was called to Rome by the general administration to be the assistant bursar general of the Congregation. He held this post almost for 10 years as a faithful and accountable servant and of course winning much appreciation from the members of the General Administration. . From there he proceeded to Palermo, Italy and served as the Chaplain for Tamil Diaspora. Once his term was over he proceeded to Norway and served the Tamil community there for 3 years. When he returned to the Province of Jaffna, he was appointed as the Provincial treasurer which post he held for six years and as a member of the formation staff at De Mazenod Scholasticate, Columbuthurai, Jaffna.
Fr. Victor followed certain policies while he was the treasurer that could not be understood nor appreciated by many because he was strictly observing the vows of poverty and obedience in his own life and he wanted others to follow. This attitude created much ill feeling and misunderstanding between him and the members. Sometimes the members used to tell that he was misled .
However he stood by his convictions and went about doing his duties in a simple, humble and in an unassuming way. A cycle was his vehicle throughout his ministry and his room was almost empty of things. Surpassing all criticisms he exhibited a lifestyle that could win the admiration of many lay people. Even I have challenged him and confronted him on many occasions but I always respected his ways of living. He was a lover of poor and got interested in the education of the most poor students around the Scholasticate that he taught them mathematics during his free time. He was accountable and a conscientious servant. For him religious rules were the first priorities. With his spirit of commitment he served the Province till his untimely and tragic death. He was knocked down by a motorcyclist when he was riding on his cycle to his office, became unconscious and was taken to the Jaffna General Hospital where he remained in a coma state till he met his death on the 29th of September 2020.
It is a big loss to the Province and to the congregation at large. His last rites were conducted at St. Mary's cathedral Jaffna and his mortal remains were interred at St. Mary's burial ground, Jaffna. He lived a life of authenticity, followed his conscience and committed his entire life to the service of God and to his people. May his soul rest in Peace.
Rev. Fr. M.Paul Nadchethiram, OMI,
Amathy Aham, Vavuniya
no images were found